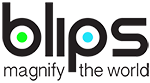 BLIPS lenses are innovative products that can be used in several different applications. Apart from being appreciated tools by Science and nature fans, they can be used as useful accessories to support other products when a microscopic control is useful. For example, to check the effectiveness of a medical treatment, the consumption/degradation of a mechanical component for quality checking, or to promote Science education/dissemination. Some innovative companies have already introduced this new offer to their customers, with great success.
Providing the user with a control element is perceived as a guarantee of the product quality.
Blips Macro lenses are also excellent gadgets for technological events and for companies that love innovation. The simplicity in the graphic customization of the packaging makes our products an ideal solution for any type of promotional use.
HERE BELOW SOME OF OUR MAIN PARTNERS, OR CLIENTS
The
REVOLUTIONARY
microscope for any smartphone
DIPLE is aimed at the public who wants a portable instrument for microscopic investigation; an extremely compact system that can be quickly stored in a drawer or in a small bag. DIPLE is the product for the most demanding customers, with professional or semi-professional needs. The product, which will be distributed from Summer 2020, has been received with great interest from veterinarians, medical pathologists and infectious disease specialists, Science teachers, researchers in the most varied fields, from biology to nanotechnology, as well as from a number of Science fans.
CONTACTS
If you re interested in reselling our products through your website, we also offer an affiliate program for resellers.
For more information or to evaluate dedicated solutions, customizations or new projects, write us using the following form.
We will be happy to answer you in a very short time.