The unique set of mini-objectives for smartphones allowing you to see deep inside the micro-world
Two mini-objectives on flexible film which cleanly stick on your smartphone or tablet; entrance doors to the microscopic world for everyone. BLIPS is so slim that you can connect it to your device and keep it in your pocket without having to worry about losing it. BLIPS works on all models of smartphones and tablets.
The World's thinnest objectives for portable microscopy on smartphones or tablets
The BLIPS (patent pending technology) is a set of two, extremely thin elements made of composite, multilayered structures. Each element is composed by a specifically designed objective lens placed on a flexible film.
The back side surface of the flexible film sticks on the glass of the mobile device (phone or tablet) covering the camera, by purely electrostatic forces. No glue is used behind the lenses, so there are no residues on the camera once the lens is removed.
BASIC KIT: Two Amazing Mini-Objectives
We carefully designed two lenses (BLIPS Macro & BLIPS Micro) for great usability and optical performance. BLIPS provides two different magnification levels for a number of applications in daily life.
Blips Macro allows you to take high definition macro pictures, with optical magnification of about 10 times.
It is extremely thin, about 1/50 inch (≈0.5mm), and very user friendly. This is the first step from "standard" photography toward portable microscopy.
Its working distance, i.e. the distance between the lens and the focal plane, is of about 1/2 inch (≈12mm).
Hence, it can be used like a high power magnification lens for precision works, or for a number of other applications where an amplified electronic eye is desired, from technical use to pure fun.
Examples? Quality check of soldering works, cloth, seam, paints or other manufactures. Needle & thread insertion, self-check of moles, or skin, or nails, check in child's hair for head lice/nits, insects or spiders observation, check of parasites on leaves, etc.
Have a look to the gallery for more inspirations.
Blips Micro permits the use of your smartphone for real microscopy applications.
Blips Micro can recognize details of about 1/7000 inch (≈1/275 mm), so distinguishing cells or other inhabitants of the micro-world. BLIPS Micro is less than 1/20 inch (≈1.2mm) high, and it turns your phone into a real digital microscope.
You need to keep a distance of ¼ inch (6mm) between the lens and the sample under observation to discover tiny details at high definition. With the use of digital zoom it is possible to achieve magnification over 100x*.
BLIPS Macro

BLIPS Micro

2 Sponges
For the use of Micro in the realm of microscopy we also offer a selection of prepared microscope slides plus an appropriate light source for the best observation of flat and thin samples and an easy assembling stage for smartphone. This mechanical stage can be used as smartphone stand holder too. In our packaging you can find glass slides of insect parts, parasites and human tissues
Lab Kit:
Basic Kit

Light Source

2 Sponges

Smartphone Stage

6 Prepared Slides
Ultra Lab Kit:
Basic Kit + Blips Ultra

Light Source

2 Sponges

Smartphone Stage

6 Prepared Slides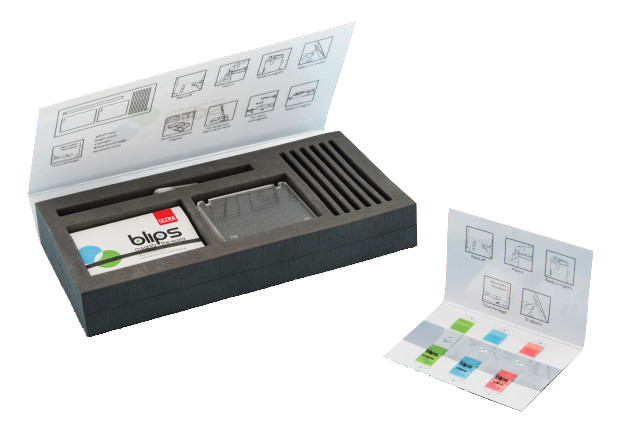 Accessories for Blips
We have studied the simplest and most functional accessories for the optimal use of BLIPS in everyday life or for technical applications
Available, get it now online!
Discover and order now Blips on Kickstarter.